Motivating. Inspirational. Sensible. Fabulous.  Those are the words attendees used to describe Margaret Bell's keynote presentation to Saturday's International Online Forum.
Margaret opened her remarks stating, "A strong trading plan can be easier and less complicated than you think." Then she showed us.
"My first really solid trading plan finally came together after one of the first Forums with Petra Hess and her 3/8-EMA crossover presentation in November 2015. Putting the trading plan together and following it through made for a very profitable and relaxed year of trading in 2016." Margaret's enthusiasm and love of trading shone through as she walked us through her plan which she says has taken her trading to a whole new level.
Exciting News! You can watch the entire Forum replay. JUST CLICK HERE TO GET THE REPLAY.
Margaret showed chart examples of her actual trades, when she bought and when she sold. To find good stock candidates she has created her own searches, but she also regularly graphs the top 25 VST (Value, Safety, Timing) stocks in stock viewer.
"The charts tell me what is going on in a company at any given time. And VectorVest fills in the details with the relative value, safety, timing, VST and CI. That is all the information I really need.
"Like (VectorVest Founder) Dr. DiLiddo says, look for a chart pattern moving from bottom left to upper right."  From there she applies her go-to 3/8-EMA graph layout with a 20-day simple MA. "The ADX and MACD are a confirmation for me in the 3/8 move, and VectorVest's Relative Timing (RT) let's me know how much interest there is."
Sue R. commented, "Loved it! Excellent presentation. Thank you so much. Will definitely listen to this again. I could relate to everything!"
Salim D. chatted in, "Already love the presentation and we have not even discussed the trading plan."
As a self-described 'swing-trader', Margaret starts with a 1-year daily graph looking for that overall-all bottom left to top right pattern. She then narrows in to a 3-month graph for more precise entries and exits. Here's an example from Saturday. Margaret said, "TCW had a nice crossover at $3.57 and then took me out at $4.77. A nice 29% profit in a few weeks."
Margaret said she was a BNN junkie for quite a few years trading with the news and companies she thought she new. "I managed to make small profits each year in light trading, but after joining VectorVest in 2011 I found the support and resources I needed to turn my trading on the right track again."
What was Margaret's Special Share? "My secret to never taking another emotional trading loss: I get excited about protecting my money!"  …."I have an easy, very visual sell signal. When the 3 crosses the 8 turning down and showing white space, I have no problem pressing the sell button and protecting my profit."
An Encouraging Word. Margaret had an encouraging word for anyone currently having some difficulties trading. "Take some down time, but don't give up. Just keep learning. Being a part of the VectorVest community you can find the support and technical skills to become a solid trader."
The monthly International Online Forum is one example of how strong our VectorVest community is worldwide. Attendees joined in from every province in Canada and several US states. We had attendees from Australia where it was 3 a.m. the next day, South Africa, the Netherlands and communities in Asia, the UK and Europe.
John Murnaghan, VectorVest User Group Leader for Dublin, Ireland is a regular Forum attendee, taking presentation ideas back to his UG members. He said of Margaret's presentation, "Great stuff again Stan. Informative, novel, professionally presented and very motivational. Thanks again…also to Margaret."
Join Tuesday's Weekly CA SOTW Q&A Webinar, another example of VectorVest members coming together to share trading ideas and support each other. This Tuesday, Feb. 14 at 12:30 Eastern, you're invited to participate in our ProfitLocker Challenge. View Friday's Special Presentation, then run some backtests using the new ProfitLocker STOP introduced in Friday's video. We want to know, What was your best improvement using the ProfitLocker? To attend the live webinar or get a link to the recording, CLICK HERE TO REGISTER FOR THE FEB 14 Q&A WEBINAR.
Do you know which global market has the best YTD return in 2017? If not, check out the Forum Recording Market Forecast section. You'll find a list of 40 US-traded ETF's you can put in a WatchList to track global market performance. Would it surprise you to know that Poland (EPOL) is the leader with a 16.29% gain YTD in 2017? By the way, Margaret's 3/8-EMA trading plan would have got you in on Jan. 3 and kept you in for the full 16.29% gain.
Sector and Industry Rotation. Metals, Semiconductors, Financials have led the way in Sector Rotation since US President Trump won the election on Nov. 9 and the Feds began raising the interest rate. Check out the Forum replay to see Stan Heller's WatchList of SPDR's as another way to track Sector Rotation.
Tracking Buy-Rated Stocks to find the strongest industries. Relative Timing (RT) and the RT Ranking are incredibly valuable tools that will help you find the strongest stocks in the strongest industries. VectorVest has covered this method in a few Special Presentation videos.  Another easy and useful method to reveal the health of the market and industry groups is to run a search of all the BUY-rated stocks and export them to an excel CSV file where you can sort and do sums and counts. Look in the industry groups to find the ones with the most Buy-rated stocks. It will lead you to some terrific stock trading ideas.  View the Forum replay to see how. Here are my results from Friday. Very Revealing!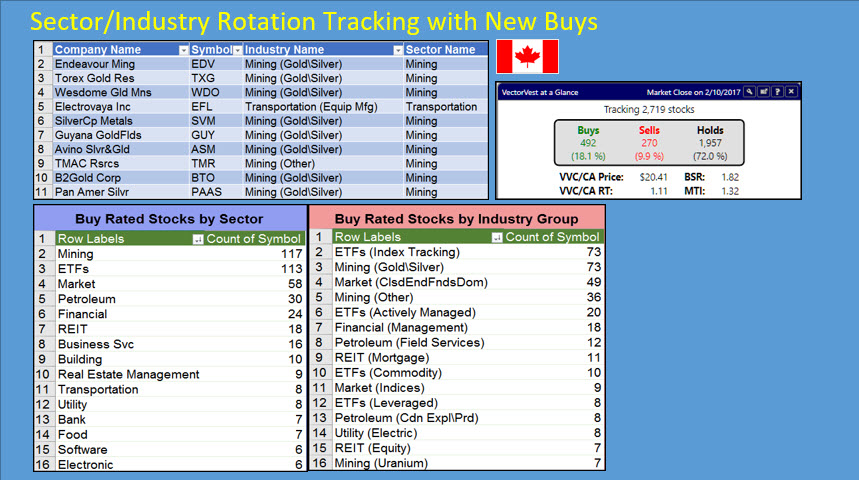 To View previous Online Forum video replays, click on the recording links below:
February 11, 2017 – Work. Life. Trading Balance. by Margaret Bell. Global ETFs and Industry Tracking by Stan Heller, Consultant, VectorVest Canada.
January 7, 2017 – Stock Chat hosted by Stan Heller, Consultant VectorVest Canada
December 3 – My Three Friends: Value, Price and Earnings by Mike Simonato, Ontario VV Member.
November 5 – Guide to Worry-free Investing with Dr. Bart DiLiddo
October 1 – Running With Momentum: Momentum ETF Portfolio; and Jamin Heller's Enhanced Trade Analysis and Risk Management Spreadsheet.
September 10 – Trading Pullbacks: Possible entry and exit points combining candlesticks and the 10 EMA and 30 EMA by Wendy Johnson, Arkansas User Group Leader; and 5-Steps to Profitable Bottom Fishing by Stan Heller.
August 6 – Three new ways to trade 3/8 EMA Crossovers by Petra Hess, Burlington UG Leader and How to Use QuickFolios to find what's hot and what's not, by Stan Heller.
July 4 – Keep it Simple! Lesson from Regina, SK User Group presented by Irwin Blank; and Finding Trade Ideas using Price, Volume and ADX/DMI, presented by Stan Heller.
Posted by Stan Heller, Consultant, VectorVest Canada
DISCLAIMER: The information contained in this Blog is for education and information purposes only. Example trades must not be considered as recommendations. You should always do your own analysis and invest based on your own risk tolerance, investment style, goals and time horizon. There are risks involved in investing and only you know your financial situation, risk tolerance, financial goals and time horizon.